CAP Sur la Relève: art therapy program for young adults!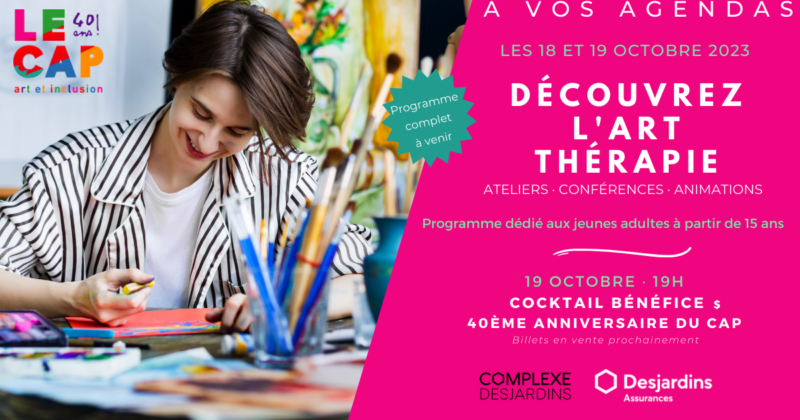 On October 18 and 19, art therapy will be in the spotlight!
Over a year ago, CAP launched a pilot project of art therapy workshops for young adults. Supported by our presenting partner, the Caisse Desjardins des Versants du mont Royal and Desjardins Assurances, we are proud to invite you to the official launch of the program.
WEDNESDAY, OCTOBER 18 AND THURSDAY, OCTOBER 19
in the agora of Complexe Desjardins
A variety of art therapy activities will be on offer:
art therapy workshops led by Maria Riccardi, Florine Rogé and Maude Robinson
lectures by art therapist Maria Riccardi and international speaker Benoît Chalifoux
tam-tam therapy workshop led by Daniel Bellegarde
1983 – 2023: CAP turns 40!
The fundraising evening ($) on Thursday, October 19, will be dedicated to celebrating 40 years of the Centre d'apprentissage parallèle !
Several surprises are planned, as well as a cocktail reception in the Complexe Desjardins agora, which will be privatized for the occasion.
Tickets for this anniversary event will soon be available online.