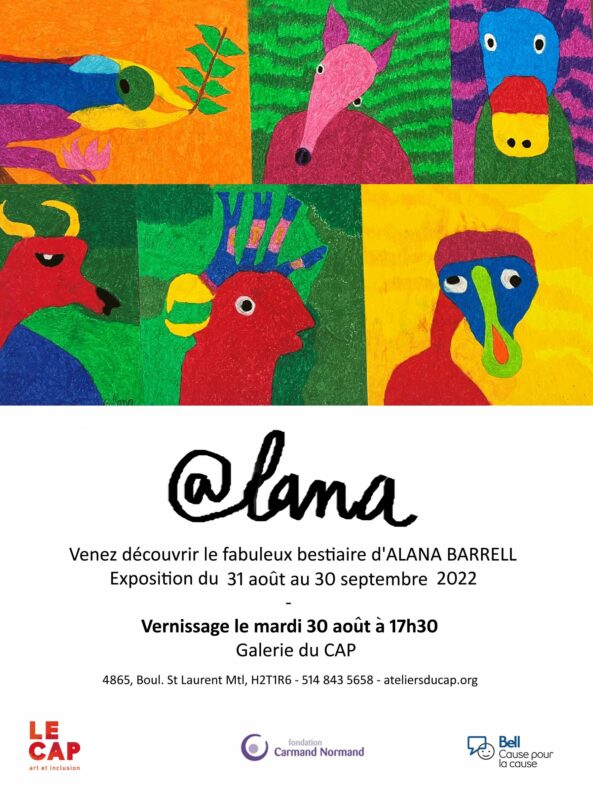 Join us at the vernissage of works by Alana Barrell, Tuesday August 30 at 5:30 p.m. at the CAP gallery.
The exhibition will take place from August 31 to the 1st of october (in extension).
Alana Barrell is an artist. Her frank, direct, and genuine art is true therapy for the eyes and for the soul.
Through the multiple expressions of singular characters that she invents, and through the wide variety of creatures inspired by the animal world that she composes, she invents a unique bestiary that speaks to us of the living, that speaks of us.
Alana Barrell's work uncovers an imaginary world full of bold, lively and luminous colors, arranged on canvas or paper in juxtaposed vibrant hues, which enhance the contrast and sparkle of more delicately chosen tones.
Even without understanding her approach, we are drawn in by the poetry of her paintings and the effervescent inner world to which it transports us. A certain mystery remains, however, and this is part of what gives the work its intrigue and its strength.
I am very proud to present, as part of Les Ambassadeurs de la santé mentale project, the recent works of Alana, and I invite you to discover her world in the CAP gallery.
Xavier Bonpunt
General and artistic director of CAP.